Skip to content
Skip to navigation menu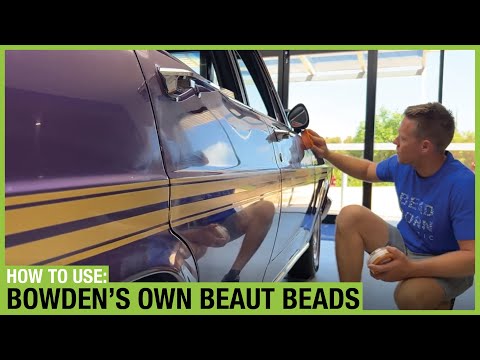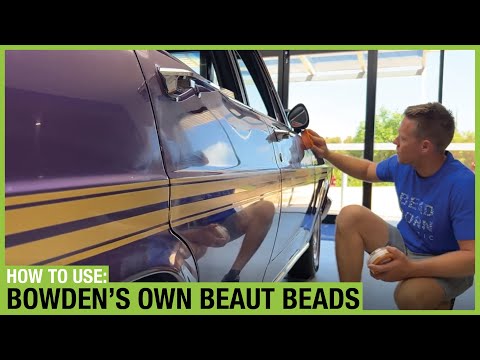 Beaut Beads - A Modern, Super Hydrophobic Paste Wax
Amazing depth, shine and that carnauba wax glow
For any paint type, both old and new
Super Hydrophobic Beading and Sheeting - not "Ceramic"
No harsh chemicals or abrasives - blended with T1 grade Brazilian carnauba wax, local beeswax and montan wax
Product Availability by Store Location
Delivery Options:
Expand to view your delivery options
FEATURES
Beaut Beads is a totally Aussie made paste wax, combining T1 grade Carnauba Wax with other high quality waxes, and some pretty amazing synthetic ingredients. This combination of ingredients has allowed us to make something that not only gives that deep warmth and shine that a natural wax gives, but we were also able to incorporate some epic protection from the more durable synthetic ingredients. To read more in-depth about Beaut Beads, its creation journey and more.
Using it couldn't be easier. Grab your included applicator and "dab" the foam into the jar, working your way around the applicator until you get a decent amount on there. Apply a very THIN coat to the surface of the paint, one section at a time. Apply it in a north-south, then east-west overlapping motion so you don't miss any spots. You can also apply it in small circles if you wish. A little goes a long way here, so just dab the applicator back into the jar as needed. Go around the entire car using this method and then allow the wax to cure on the surface for 20-30 minutes. (NOTE: avoid getting the wax on black plastics or rubbers. If you do, wipe it off straight away with a cloth and some Flash Prep. Tape off plastics and rubbers if you wish).
After the wax has had 20-30 minutes to bond, wipe off the excess with a super soft Drop Bear cloth, flipping and turning the cloth often. Sit back and marvel at the amazing shine and glow your paint now has - dark or light coloured cars, Beaut Beads will bring out the best in the paint.
A lot of paste waxes can be a right pain to remove. We spent a lot of time during the development of Beaut Beads to formulate it to be super easy to remove, so when doing this part, you will really appreciate this aspect of the product.
Once all of the wax has been removed, leave it to cure for a minimum of 4 hours before getting it wet or leave it overnight for best results.
HOW WE USE IT
The Beaut Beads mini me jar will be enough to do 4 or 5 cars and it's quite simple to use.
First, wash and dry the car. Then pull it into the garage for some more intensive pampering. Note - If the paint feels rough we would recommend using our Three Way and Claying Rubber system after the wash, decontaminating it from iron and other contaminants bonded on top of the paint surface. Followed by the Paint Cleanse & Restore after drying, for a deeper clean of the undulating paint surface.
Use our Flash Prep on the surface to clean away any oils, as we found this particular wax responds best to perfectly clean and bare paint. 
Apply a THIN coat of the Beaut Beads to the paint with the supplied foam applicator. Work it in one direction and then another to ensure an even and consistent covering. You can apply in a tight circular method if you wish as well. Do the entire car in one go. Avoid any black plastic trims as it can leave a slight residue if it touches them, simply wipe this off with the microfibre buffing cloth while it's fresh or clean off later with Orange Agent and a small brush, rinsing away with water. 
Allow it to sit for 20 mins to bond to the paint surface. 
Buff off with the super plush Drop Bear microfibre cloth, flipping and turning it often as you go. On larger cars it can pay to swap to a fresh cloth half way around the car.
Allow it to cure for 4 to 5 hours or even overnight, and then apply Bead Machine on top if you so desire. 
Marvel at the depth, glow and shine with your favourite cool, refreshing beverage.
Extra Tips - The wax applicators can be washed out by hand with our Microfibre Wash. Pour a small amount into the pad and massage it in well, before rinsing well with fresh water. Air dry before storing it in a sealable container. Store the Beaut Beads tub in a cooler location, out of the direct sun. If you are fanatical you can store it in the "butter" section of the beer fridge, or in a wine fridge, but it's not 100% necessary, especially if it means one less bottle being kept in either area.
Bowdens Own Beaut Beads - BOBBW
Product Availability by Store Location